Wiki Targeted (Entertainment)
Play Sound
Encephalitis (from Ancient Greek ἐνκέφαλος enképhalos "brain", composed of ἐν "in" and κέφαλος "head", and the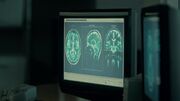 medical suffix -itis "inflammation") is an acute inflammation of the brain. Encephalitis with meningitis is known as meningoencephalitis. Symptoms include headache, fever, confusion, drowsiness, and fatigue. More advanced and serious symptoms include seizures or convulsions, tremors, hallucinations, and memory problems.
Signs and symptoms
[
]
Adult patients with encephalitis present acute onset of fever, headache, confusion, and sometimes seizures. Younger children or infants may present irritability, poor appetite, and fever.
Neurological examinations usually reveal a drowsy or confused patient. Stiff neck, due to the irritation of the meninges covering the brain, indicates that the patient has either meningitis or meningoencephalitis.
Treatment
[
]
Treatment is usually symptomatic. Reliably tested specific antiviral agents are few in number (e.g. acyclovir for herpes simplex virus) and are used with limited success in treatment of viral infection, with the exception of herpes simplex encephalitis. In patients who are very sick, supportive treatment, such as mechanical ventilation, is equally important. Corticosteroids (e.g., methylprednisolone) are used to reduce brain swelling and inflammation. Sedatives may be needed for irritability or restlessness. For Mycoplasma infection, parenteral tetracycline is given. Encephalitis due to Toxoplasma is treated by giving a combination of pyrimethamine and sulphadimidine.
Trivia
[
]