Wiki Targeted (Entertainment)
Play Sound
The article includes Timelines of the books, movies and TV series:
20/01/1933 - Hannibal Lecter is born
1939 - Mischa Lecter is born.
1941 - Hannibal is 8 years old and Mischa is almost 2 when Castle Lecter is taken by the Nazis.
1944 - Mischa is killed and cannibalised by a group of soldiers led by Vladis Grutas.
1946 - Hannibal is 13, living in his old castle, now an orphanage, is adopted by his uncle Robert. After Paul Momund, a butcher insults his aunt and triggers a fatal heart attack in his uncle, Lecter murders the butcher and eats his cheeks.
1951 - Hannibal goes back to his old home to find out the identity of the soldiers who killed Mischa, and start killing one by one.
1953 - Hannibal goes after the last soldier in Canada, after travelling by train to NY watched the play Picnic
Hannibal earns an internship at John Hopkins Medical Center in Baltimore, MD and eventually graduates with a medical degree.
14/06/1938 - Francis Dolarhyde is born in Springfield, Missouri.
1939 - Hannibal Lecter claims he is born in this year(Hannibal writes his age as 41 at the actuarial table, Chapter 24)
1941 - Will Graham is born (Will says he's nearly forty)
1943 -Dolarhyde, age 5, is adopted from an orphanage by his maternal grandmother, to be raised at her group home in St. Louis, Missouri.
1955 - Francis Dolarhyde, still underage at 17, is arrested while breaking into a woman's house. He accepts enlistment in the U.S. military over a prison sentence.
1960s - Dolarhyde tours Asia with the military, receives cosmetic surgery for his cleft palate, and learns how to develop film.
1970 - Lecter, now an emergency-room surgeon, treats a bow hunter for a leg wound.
1970s - Will Graham shoots and kills serial killer Garrett Jacob Hobbs, "the Minnesota Shrike", to prevent him from killing his own daughter.
Will Graham temporarily checks himself into a mental hospital to cope with the aftermath of the killing before returning to FBI service.
Lecter opens a private psychiatric practice and becomes a world-renowned psychiatrist.
1970 - 1975 - Lecter embarks on a killing spree in Baltimore, killing at least nine and wounding three others. Victims include:
1972 - Mason Verger, fourth victim, is drugged and forced to mutilate his own face. Hannibal then breaks his neck with a noose Verger intended to use for auto-erotic asphixia. Verger survives, but is rendered quadriplegic.
Another survivor is taken to a private mental hospital in Denver.
Census taker, liver removed and eaten by Lecter.
12th March, a bow hunter, the sixth murdered, is found brutally killed in his workshop.
Between 13th to 22nd March, Lecter kills his seventh and eighth victims.
22nd March, Benjamin Raspail disappears, found three days later in a church pew. Missing his thymus and pancreas. Ninth to die.
30th March 1975. Will Graham interviews Dr Lecter in regards to the sixth victim, as he was treated by Lecter five years before. Lecter claims not to remember. Graham finds evidence that Lecter is the killer he seeks. Lecter nearly disembowels Graham. Lecter is arrested and Graham is hospitalised.
Lecter is committed to the Baltimore Hospital for the Criminally Insane. He is a model inmate and complies with therapy.
Will Graham retires from FBI service.
c.1976 - Will meets his future wife Molly Foster and her son Willy, eventually living with them in Marathon, Florida.
8 July 1976, Lecter complains of chest pains. He is treated by a nurse who he savages, eating her tongue. Dr. Frederick Chilton, PhD, becomes the new administrator in this year. Lecter is no longer allowed out of his cell in any capacity without full restraints and a bite guard after this date.
1977 - Will says that three years before they tried to drug Dr Lecter with a truth serum to reveal the location of one of his victims's remains, he gave them the recipe of a dip. Barney Matthews is employed at the asylum.
Lecter goes on trial for his murders and is sentenced to life imprisonment.
1970s - Francis Dolarhyde gets a job processing film at Gateway Labs in St. Louis, Missouri, where he lives in his grandmother's former house.
1979 - Fall of '79, Dolarhyde goes to Hong Kong and receives a large tattoo based on William Blake's "The Great Red Dragon And The Woman Clothed In Sun".
1980 - Events of Red Dragon take place. (Francis claims to be 42 in the book).
28/06/1980 - The Jacobi family is killed by Dolarhyde.
26/07/1980 - The Leeds family is killed by Dolarhyde.
Early August 1980 - Jack Crawford visits Will Graham at his home in Marathon, FL and persuades him to assist in catching the Jacobi and Leeds families' killer.
September 1980 - Francis Dolarhyde is killed. A thrice-traumatized Will Graham permanently retires from the FBI and becomes an alcoholic.
1925 - Dr. Chilton is born(Chilton is said to be 58 at his first meeting with Starling).
1930 - Jack Crawford is born.
1949 - Jame Gumb is born.
1959 - Gumb is adopted by his grandparents.
1961- Gumb murders his grandparents and is sent to an asylum.
1967- Gumb is released.
Between 1967 and 1975, Jame Gumb takes on several careers. He enters a relationship with Benjamin Raspail. Raspail leaves Gumb and enters a relationship with a man called Klaus. Gumb murders Klaus and skins him.
March 1975, Raspail introduces Gumb to his therapist, Dr Hannibal Lecter. Lecter kills Raspail.
Between 1975 and 1982, Gumb applies for gender reassignment and is declined.
23/12/1958 - Clarice Starling is born.
08/07/1976 - Hannibal savages a nurse
1982 c April. - Jame Gumb begins his serial murders. He kills five women in ten months.
7/2/1983. Clarice Starling interviews Hannibal Lecter for insight into Buffalo Bill. His cell mate, I.J. "Multiple" Miggs fling semen at Starling. Lecter helps Starling by giving her Raspail's name. Later that evening, Lecter manipulates Miggs into commiting suicide in his cell.
Starling discovers the head of "Klaus" in Raspail's garage. Over time, Starling enters a 'quid pro quo' arrangement with Lecter for his insight into the case.
Buffalo Bill's sixth victim is found.
Catherine Baker Martin is kidnapped by Buffalo Bill. Starling offers a fake deal to Lecter involving a transfer to a windowed cell and job consulting on anonymous patient files. Chilton listens in and reveals the ploy to Lecter, offering him a real transfer instead.
Lecter is transferred to Memphis. After a last meeting with Starling, Lecter escapes his cell, killing two officers, two paramedics and a tourist.
Starling interviews Jame Gumb and realizes he is Buffalo Bill. She kills him and saves Martin.
Lecter writes letters to Starling, Barney and Dr. Chilton from a hotel filled with out-patients of a nearby plastic surgery center.
takes place in 1990 (7 years after SOTL)
1938 - Hannibal Lecter is born (At Chapter 48, Hannibal remembers his childhood, he was 6 in 1944).
mid-1980s - Lecter retrives a supply of passports and cash he'd hidden in a cabin wall years earlier and makes his way to South America.
Lecter has the extra finger on his left hand removed.
Dr. Frederick Chilton disappears while vacationing in Jamaica, implicitly having been killed and eaten by Lecter.
The Baltimore Hospital for the Criminally Insane is decomissioned and shut down.
Lecter eventually moves to Florence, Italy. He kills the curator of the Capponi Library and takes his place, under the pseudonym "Dr. Fell".
1990 - Clarice Starling, age 33, kills five criminals in a botched drugs raid. Dr. Lecter sends her a letter. Starling interviews Mason Verger for information. Verger, planning revenge by feeding Lecter to pigs, teams with Paul Krendler to discredit Starling.
Rinaldo Pazzi, in league with Verger, tries to capture Lecter. Over time, Lecter kills a pickpocket. After a lecture on Dante, Lecter kills Pazzi and Matteo Deogracis and flees.
Lecter returns to America and kills Donnie Barber. Lecter is captured by Verger's men. At Verger's mansion, Lecter is rescued by Starling, who is injured by a henchmen. Margot Verger, Mason's sister, kills her brother. Lecter escapes with Starling and restores her to health.
c 4th July 1990 - Lecter attempts to brainwash Starling. Lecter captures Paul Krendler and prepares his brains for himself and Starling.
Starling breaks from Lecter's trance and they run away together.
1993 - Barney Matthews spots Lecter and Starling at an opera in Argentina, and leaves the country in fear, never to return.
takes place in 1986
Silence of the Lambs movie
[
edit
|
edit source
]
takes place in 1990
08/07/1981 - Hannibal savages a nurse
takes place in 2000
30/01/1938 - Hannibal Lecter is born
1982 - Hannibal is placed in his cell until his escape
1984 - Barney Matthews starts working as an orderly
07/02/1988 - Hannibal Lecter bites a nurse
03/1990 - First tape labeled Chilton is recorded
25/06/1990 - One of the conversations between Clarice and Hannibal is recorded
27/06/1990 - the second cassette tape labeled Chilton is recorded
20/03/2000 - Mason Verger tells Clarice Starling about the time Hannibal Lecter gave him a "popper" and told him to cut off his own face.
spans 1984 - 1989
1980 - Hannibal is captured by Will Graham
Epilogue - 1990
spans 1944 - 1952
29 March 1989 is the date of Mrs. Leeds autopsy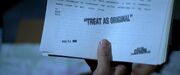 Community content is available under
CC-BY-SA
unless otherwise noted.